The Most Important Striking Principle in All of Combat Sports
This striking principle, whether it be in the context of MMA, Boxing or Muay Thai, is equally important across all martial arts. It is straightforward, and it is something that you will take with you into every new movement that you learn.
No detours. Let us simplify our movement. With this lesson, we go on a mission and come back the exact way we entered:
A lag in movement can be caused by a number of factors. As you saw in the video, it is most often caused by inattention to defense when attacking. It can also be caused by a disconnection in the chain of movement. For example, the punch can lag behind the body's movement.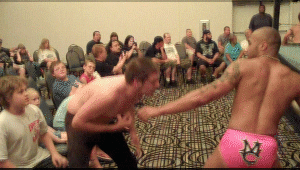 The most common cases of this are when the hips move first, the fighter does not properly breathe out or pulls their shoulder back before initiating the strike. The disconnection often happens in the core, the arm ends up lagging behind the force generated from the ground. Once again, the best way to simplify this is by going from Point A to Point B and straight back to Point A without taking any unnecessary detours.
---
This technique is deeply illustrated, diagrammed and further explained within my private lesson voiceover with Professional World Kickboxing Champion turned Boxer Cathy McAleer. Available in my content library on Patreon – a place where you can support, but also gain access to more exclusive content like private lesson videos, behind the scenes sparring & higher production quality with the support of our fans and team.
You can now support our content, the podcast and ensure all continued production quality by becoming a Patreon! [5$+ Suggested Pledge]
(Patreon Exclusive Private Lessons, Breakdowns, Voice Overs, Tutorials Are Here)

Our Current Minor Sponsors on Patreon Include:
GetBackIntoFitness.com, Aaron Serabia & Agnes Chua – Join the Team!
---
About the Author:
Paul Banasiak is a Professional Muay Thai Athlete/addict, 9x champion, trainer, and fitness professional currently living, training, and fighting in Thailand. After leaving his studies in the medical field without looking back, he decided to fully follow his passion of helping others become the best version of themselves, graduating first in class with a Health and Exercise Science Degree and creating MuayThaiAthlete.com. A website for passionate individuals that want to take their lifestyle, mindset & training to the next level. 
Today we begin forging our bodies and
strengthening our limitless minds.
Interested in even more? Follow us on:
Facebook. Youtube. Instagram. Twitter.
Snapchat @MuayThaiAthlete
iTunes Podcast with Sean Fagan (The Muay Thai Guys)
Stitcher Podcast with Sean Fagan (The Muay Thai Guys)
*Leave a 5 star Review to be Featured!